Needing that extra drive and secret sauce to skyrocket your game from riding the bench to being a star player? You come to the right place!
In this blog post, I will talk about a course that helped me improve my game in soccer tremendously. I will also dig a little into my story about how it all came to be. 
FIRST EXPERIENCE IN THIS SOCCER WORLD
Growing up as a kid, I have always loved soccer. It became one of my favorite past times as a child and quickly began growing to be a passion. 
I can still remember this day at my grandma's house in Mexico where my very first present on my first birthday was a soccer ball. Words cannot express how enthusiastic I was as a child getting this present. It's funny because I am not telling you from my point of view. I am telling you all this from my mother and grandma's point of view because they were the only people present during my first actual birthday. My dad at the time was at the States traveling and finding a place to settle down before my mother going to that location. 
Let's be real here for a minute. Who do you know that remembers their first birthday vividly? I know close to zero people that do unless you have an insane memory. 
But anyway, getting that first ball sparks joy into my eyes and immediately I start to play around with it, kicking it, pushing it around as I crawl, and overall just get curious about it. Honestly, life was amazing at the time because of A. no worries B. I had a soccer ball and C. I was a baby so who cares. 
IT ALL STARTS WITH A DREAM
As I got older and I began to start falling in love with it. Kicking the ball and just being around the sport was my absolute favorite thing and from those moments I knew it was something I wanted to work to get better.
Here are some vintage pics of Young Footballer Pedro. Promise me you won't laugh.  
At the time soccer jerseys were about the only thing I wore. I kid you not THE ONLY THING I WORE. I'd rock these jerseys to school almost every day.
My attire from Kindergarten up until like 4th grade consisted of shorts, a jersey and tennis shoes. Funny thing is, in 3rd grade I would actually wear my cleats to school. Hearing the "click-clack-click-clack" walking down the hallways was the worst now that I think about it, but hey, you never knew when 5v5 was about to go down in recess. You always had to stay prepared. 
FALL IN LOVE WITH THE PROCESS
In my elementary years, I sucked. Like I really did suck. I remember sitting on the bench for youth soccer back when I was 6-7 years old and barely getting any playing time. This all was so awful because I WANTED to play because I LOVED to play. Sitting on the bench only discouraged me as a kid growing up. 
Going from my elementary team, middle school team, high school, club and all the way up to college my main objective was 
"How can I get better today?"
Getting better was the only way of making me happy and doing what I loved to do, so I did whatever it took to reach that. 
I WAS A NERD FOR THE SPORT
With that mindset and ambition, I would do virtually anything to learn a new trick, learn from the best and literally ANYTHING to get better.
Afterschool for me in my early days was binge-watch Youtube videos, highlights, games, and everything that had to do with soccer footage online. I really want to just digest everything I saw and somehow apply it to make my game better. I would mostly watch freestyle videos because I loved how they looked and they were by far the most fun things to do when playing. 
Every footballer reading this will understand this feeling.
"Bro, how did you do that"
"You have to teach me that"
"That's really cool"
I fed off this and would just motivate me to learn more tricks/skills to do with the ball.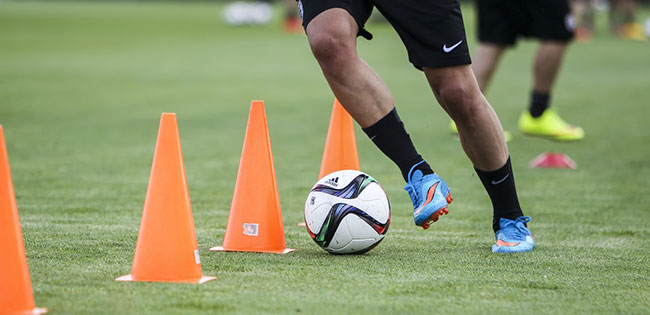 During that time, the internet was vastly growing at an exponential rate. There were loads of videos, trainers, and courses being made available to inspiring footballers. Anything you could watch on Youtube at the time, I watched it at least 1,000 times. 
One of the videos that I kid you not, I watched over a million times was this "Ronaldinho Joga Bonito Video" I watched this so many times trying to emulate every trick, touch, and thing they did in that video. I also tried the bouncing off the walls tricks in my own living room. Jesus, did I break so many things cause of that. 
That weekly conversation of "I broke something again mom" was not pleasant but after happening so many times. They began to kind of shrug it off. I made them a promise that I would get better so I wouldn't break stuff anymore. 
For those curious, here is a list of videos that I watched over and over again. Hey, maybe we binge-watched the same videos. 
There is beyond way more videos but these are a few of my favorites. If you haven't noticed a lot of those are Ronaldinho videos. Ronaldinho growing up was my favorite player and style that I would try to emulate the most. I automatically fell in love with his playing style, flair, and skills. I loved him so much that I would constantly buy his jerseys, his signature cleats, and posters to put in my room. The guy was a pimp on the field. So I tried to be that. 
MAJOR LEARNING CURVE
Learning tricks was the main thing I focused on at the time and still is but that wasn't getting me to my main goal, of being a better overall player. I knew that I had to change to elevate my game to new levels.
By the age of 12, I saw that change was needed. The change I sought? A course. This was not just an ordinary course, it was a step by step guide in mastering the foundations of soccer and training programs that promoted that. Epic Soccer Training was the solution.
The crazy thing is, I was so stubborn about the fact of reaching out for help because I had the mindset that I was going to learn everything through on my own but that soon came to be inefficient and very frustrating. My parents were firm believers of that but after long talks and conversation after conversation, I convinced them to purchase the course. I promised in return for good grades in school. This was a frequent tactic I used a lot lol. 
The course that I bought was a course that helped me develop a "fail until you succeed mentality" as a kid. Many aspiring footballers get discouraged whenever things don't go as well and I perfectly understand that because I too was in your same exact shoes. I would rage quit, I would get really mad whenever I would spend hours, days, weeks, and even months on learning a new trick or skill and would make few to none results. I understand, its really frustrating. 
Developing that mindset and having someone there along the way to help me really improved my game to a whole new level. Quickly after obtaining the program, I could see huge strides.
The course helped me to learn the tricks, skills and the most importantly the foundations of the game. If you look at the greatest players in the world, what is the one thing they mastered above all?
THE FOUNDATIONS

It presented these topics under a whole new light that not a lot of coaches and trainers had instructed me at that time.
WITH ACTION CHANGE WILL COME
Matt Smith, creator of the program was just starting out at the moment but with 15 years of experience integrated into this course, it has greatly improved and impacted many other players around the globe. Matt includes a FREE trial period for players to test out the program and really see if it something that they want.
Inside this program are loads of videos, strategies, training outlines, and secrets that every player wishes they had access to. The only thing to keep in mind is if you do not apply yourself and take the time to get better, you will not see results. You get by what you put into it. 
Anyone can learn this stuff. It takes some commitment, but the most important thing is to use your time wisely by starting my methods right away.

-Matt Smith
Actions over words are key
I will include the link down below for young aspiring footballers to check out what helped me to seek the results they need in the fastest amount of time possible. Click on the link down below to start your free trial. 
Your boy,
Pedro Segundo